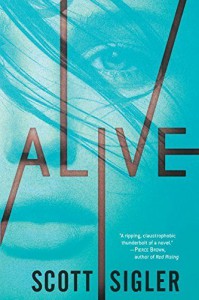 Well, the author specifically requests, at the end of the book, that when we blog about this, we give no spoilers. So, lets see how I do…
Scott Sigler's Alive is definitely a departure from the style I remember in Infected. Better? Maybe yes, Maybe no. Worse? Maybe yes, Maybe no. I think its safe to say that there are assholes, idiots, jiggly bits and bacon involved. Monsters, confusion, and gruesome sights abound.
Confession: I generally write reviews as I read. It enables me to jot down my thoughts at key moments, and 99 percent of the time, that review does not change at the end. What I've written matches up perfectly from beginning to end with what I felt when the book was finished. 99 percent of the time. Occasionally, though, the author will throw a twist in there that means I have to go back and delete a good portion of what I wrote, and re-do my review. Such was the case with this book.
Sigler is good. Just when you think you know exactly how everything is planned out, and are disappointed with what is going on, he throws a spanner into the works that has you gaping and… almost insulted that you weren't expecting it. Oh, you'll be right on some things, and so full of yourself for guessing them, but on the most important bits? Horribly wrong. At least I was.


I highly recommend it, and hope it gets a lot more attention in the upcoming weeks. In fact, this book made #9 on my Top 10 "Scifi and Scary Reads of 2015"!