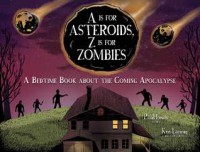 Oh, my god. I loved this! A is for Asteroids, Z is for Zombies is absolutely hilarious. By the end of it I was in stitches. (Somewhat disgusted stitches, but stitches nonetheless.) Paul Lewis and Kenneth Kit Lamug have very twisted minds, and it shows through in this delightful picture book. There is every sort of end you could imagine mentioned in this book, including one about a certain little orange man that made me goggle and then giggle. I have to assume if he ever found out it existed, he'd go on an "Off with their heads!" rampage.
Wonderfully illustrated in primarily black, white, and red, A is for Asteroids, Z is for Zombies isn't for the squeamish either. There's guts and blood and all sorts of not very nice things on display. My favorite part, though, might just be the little illustrations in the lower corner of the pages showing the dad's reactions to what he is reading. That made the whole thing even funnier.
Folks, this is definitely not a kid's book. (At least not a *little* kids book.) Middle Grade+ might be okay with it, but even then it depends on the kid.
Kudos to the author and illustrator for creating a fantastic little picture book that every adult with a dark sense of humor should definitely pick up!
Disclaimer: I received a copy of this book from Netgalley for review consideration.